RealWall™ and LiteBarrier™ reusable walls exceed ICRA Class IV requirements when they are installed properly.
Exceeds ICRA Class IV Requirements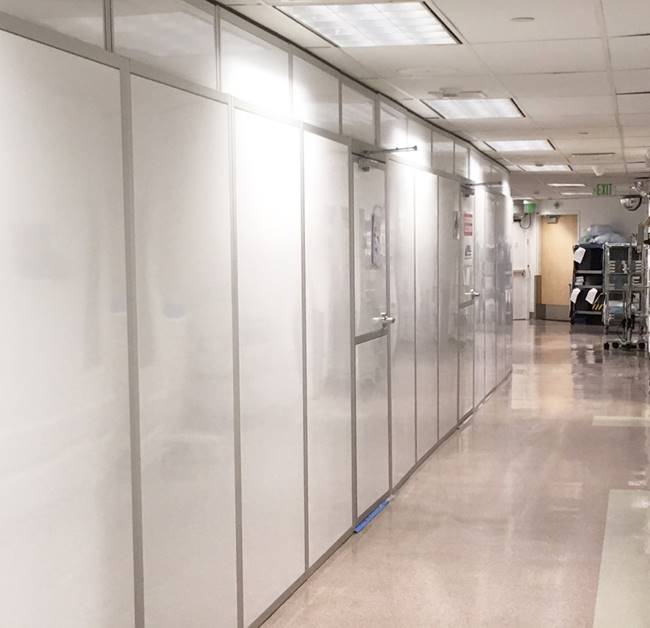 ICRA (Infection Control Risk Assessment) guidelines are used to prevent environment-associated infections in healthcare facilities during any construction or renovation project within patient-occupied or sensitive spaces. Both STARC RealWall™ and LiteBarrier™ systems offer airtight containment barriers, including negative air capability, for infection control professionals and contractors, that exceed ICRA Class IV requirements.
Airtight Construction, Built-In
STARC's panels exceed ICRA Class IV protocols, with no extra taping or tools needed. The anodized aluminum frame has integrated tongue and groove seal elements that lock one panel right into the next creating an airtight seal. Our closed cell foam rubber top and bottom gaskets ensure an airtight connection to both the ceiling and floor. Once installed, the panels never need adjustments or tightening to maintain airtight integrity.
STARC temporary wall systems can be easily disinfected using water or solvent-based cleaners and disinfectants. And our negative air panels filter out harmful dust particles and pathogens, making STARC the ideal choice for any area of a hospital including operating rooms, NICUs, isolation rooms, urgent care centers, lobbies, outpatient surgical centers, clinics, and doctors' offices.
ICRA Certified Construction Barrier in Hospital Setting

Learn why the STARC system is not only approved by Ohio State University's Medical Center epidemiologists buy why they love it.

Read the Case Study