STARC panels are easily cleaned with water or solvent-based cleaners and disinfectants.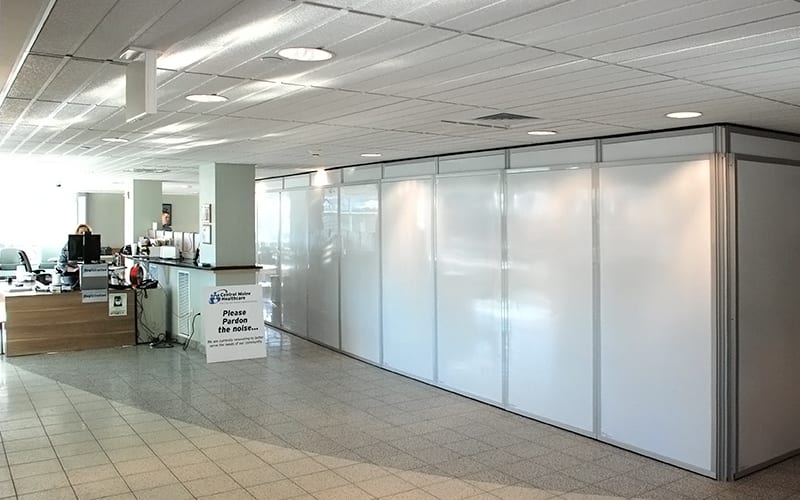 Maintaining a clean and sterile environment in institutional and healthcare settings is vital. That's why STARC developed a revolutionary dust containment system that combines unparalleled protection with easy disinfection. Our panels provide a bright white glossy surface that can be effortlessly cleaned with water or solvent-based cleaners and disinfectants.
Optimal Dust Barrier Protection for Healthcare Environments
Benefits and Features
Remarkable Cleanliness and Disinfection: All three of our temporary wall systems – RealWall™, LiteBarrier™ and FireblockWall™– feature ICRA Class IV- and Class V-compliant panels that guarantee exceptional cleanliness, thanks to their smooth and easily disinfected surfaces. Effortlessly maintain a pristine environment using regular cleaning practices and standard cleaning solutions.
Versatile Usage: STARC panels are engineered specifically for healthcare environments, making them the perfect choice for various areas within a hospital. They are suitable for operating rooms, NICUs, isolation rooms, urgent care centers, lobbies, outpatient surgical centers, clinics, and doctors' offices.
Easy Maintenance
Cleaning and maintaining STARC panels requires minimal effort. With their user-friendly design, you can easily handle the cleaning process, ensuring a hygienic and safe space for both patients and healthcare professionals.
When it comes to dust containment and ensuring a clean and safe healthcare environment, rely on the excellence and reliability of STARC panels. With their ease of disinfection, versatile usage, effortless maintenance, and quick installation, they are the superior choice for healthcare facilities.
Abbott Northwestern Hospital: Surgical Device Sterilization Plant Renovation

When ICRA compliance is required during a renovation, the STARC system will exceed the performance, durability, and safety of the other options. See how the panels were used in a surgical device sterilization plant.
Read the Case Study