Renovation and construction projects often start with using a temporary containment system to separate sensitive, occupied areas from the work site.
The ideal temporary containment system is easy to install and dismantle. Equally important for healthcare projects, the temporary walls, doors, and accessories selected must inspire confidence among infection preventionists, facilities staff, and general contractors that the system will eliminate the introduction of dust and pathogens to surrounding areas so routine operations may continue without disruption. For healthcare and life science/biotech facilities, exceeding ICRA Class IV requirements is critical.
There are many options for temporary containment. Below, you'll see why RealWall™, LiteBarrier™ and FireblockWall™ are the most innovative temporary containment systems that outperform all other options available.
Modular Containment
Reusable modular temporary containment has been one of the market's fastest-growing segments. Modular systems are preferred because they are reusable and provide ongoing cost savings. Modular systems have three categories: lightweight, sound attenuating, and reusable one-hour fire-rated.
Containment systems in the lightweight category are typically made of polycarbonate, which lacks durability, doesn't blend into existing environments, and can be difficult to install. The exception is our LiteBarrier system, which features a slimmer-but-durable aluminum frame and fiberglass reinforced polymer panels. LiteBarrier was developed to be the most durable solution in the lightweight containment category.
In the sound-attenuating category, there is only one option: RealWall. Named for its real wall appearance and construction, RealWall reduces renovation noise by up to 50%, exceeds ICRA Class IV requirements, and delivers unmatched durability and superior stability – all backed by a 3-year warranty. RealWall is widely considered the premier temporary containment solution.
Both the RealWall and LiteBarrier modular containment systems deliver far more than just panels. They are great looking, extremely durable and a completely integrated systems that exceed ICRA Class IV and ASTM E-84 requirements. These modular wall systems can be installed, moved and reconfigured over and over again. Because both systems are so durable, they can be reused hundreds of times over many years, which means they are more environmentally friendly than drywall containment that requires disposal after each use.
In the reusable one-hour fire-rated category, again, there is only one option: FireblockWall. As the first-of-its-kind reusable, one-hour fire-rated temporary containment system, FireblockWall installs four times faster than drywall, saving time and money. It meets ASTM E119, ASTM E84, NFPA 241, and IBC requirements — and it satisfies ICRA Class V guidelines. As the only safe and sustainable solution that can be used over and over, FireblockWall delivers unmatched performance and durability.
Known and trusted by leading companies in all 50 states, STARC Systems provides great-looking, reusable temporary containment systems that feature innovative design, superior engineering and best-in-class customer service. RealWall, LiteBarrier and FireblockWall are being used in a variety of verticals, including healthcare, commercial offices, airports, higher education, life sciences/biotech, and data centers. Typically, our systems pay for themselves after just 3-5 uses, virtually eliminating future containment costs.
Drywall Partitions
For years, drywall barriers have been the traditional option for contractors and facilities needing temporary containment. Typically, these walls are constructed out of metal studs and sheetrock. They take hours (sometimes days) to build, and they are extremely disruptive to the occupied areas.
Quite often, a barrier of poly sheeting must be installed to contain the dust and debris generated during the construction of drywall partitions. After each use, these partitions have to be broken down and thrown away, which requires a new structure be installed for each phase of work. That means rising costs, due to excessive labor hours, materials, and the disposal fees that accompany drywall solutions. These barriers cannot be reused for other jobs, which adds a tremendous amount of waste to our landfills.
Polycarbonate Plastic Systems
Polycarbonate partitions are sometimes used as construction dust barriers in infection control containment solutions. Typically, these systems are not very durable. The frames can warp and crack over time, compromising ICRA requirements. Additionally, polycarbonate panels can easily be bumped out of the frames, and the cam attachment system is easily jostled loose over time, further impacting ICRA effectiveness.
While polycarbonate panel systems are cleanable and reusable, they are not very durable or stable options. Most do not seamlessly integrate into a facility's overall aesthetic, nor do they reduce renovation noise.
Plastic Sheeting Partitions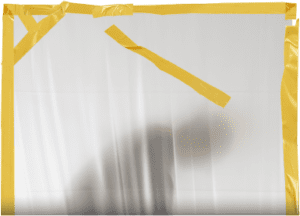 Plastic sheeting containment is commonly constructed using metal studs and PVC piping (or telescopic poles) as a barrier frame, which is then covered or wrapped with thick plastic sheeting. It's a process that requires the measuring and cutting plastic sheeting to fit the area that needs to be contained.
Similar to tarp, plastic sheeting is easily damaged and must be repeatedly inspected for rips and tears. The sheeting is not easy to clean, doesn't provide sound reduction, and cannot meet ICRA Class IV requirements, which is necessary for healthcare applications. And because plastic sheeting doesn't hide the renovation work, it looks sloppy. Upon completion of the project, plastic sheeting must be disposed of. In addition, the structure must be dismantled and then rebuilt with new sheeting for the next phase of work.