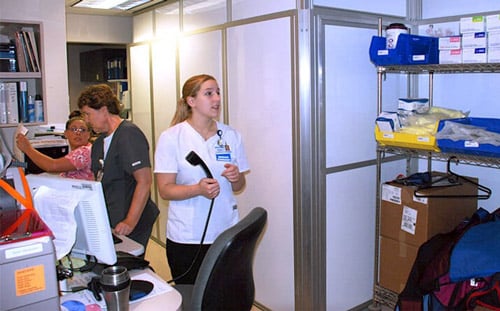 Quiet Containment During Renovation
Central Maine Medical Center (CMMC) reconfigured several radiology suites to incorporate new technologies. Two radiology rooms shared a common control room; one room was being renovated. Construction containment was needed to isolate the wall separating the control room from the renovation area.
---

"The whole wall was constructed in less than an hour. There was no dust, debris or interruption of services during the setup."
Brian Campbell, Regional Manager of Maintenance and Construction
---
The Challenge
Construction crews needed to control dirt and debris to allow the functioning CT scanning control room to remain up and running without disruption. It was also a challenging space; the control room was only 10 feet wide and with significant work to be done to one of the room's walls. Construction crews needed a quiet solution.
Our Solution
CMMC utilizes STARC Systems for other renovation projects. CMMC relies on STARC panels as they exceed ICRA Class IV standards and installation is fast, eliminating disruptions in critical patient areas.
The installation of 18 feet of containment barrier wall, including a door, was completed in just 45 minutes. During the process, the staff of four worked without interruption. STARC's foam core panels minimized any construction noise, improving patient satisfaction in the CT area.
After the initial placement, the staff requested more workspace. This was not a problem at all: The installers simply lowered all the panels, pushed the panels back a foot and raised them back to the ceiling, completing the work in 5 minutes.
The Results
The entire project was completed in less than an hour with no disruption to the critical work in the CT area. The clean finish and white surfaces of the panels also provided a bonus to staff; they put their work schedule right on the panels using dry-erase markers.
See How Much You Can Save with STARC Systems