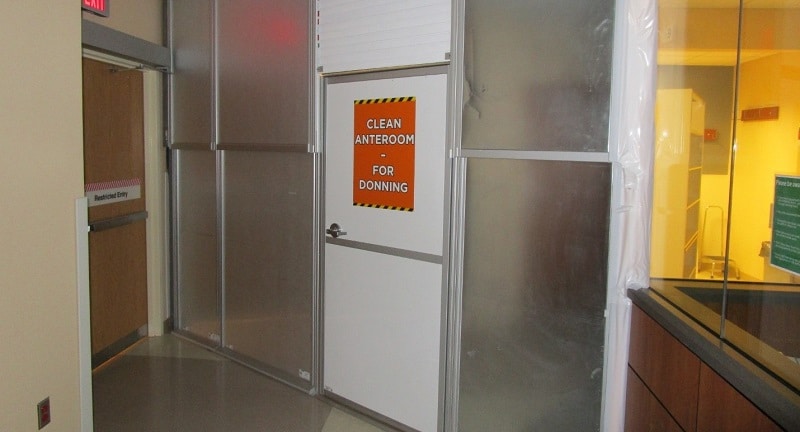 ---
Hendrick's Regional Health is a small, high-quality, lower-cost 160-bed hospital in Danville, Indiana. Their facility was overwhelmed by a high number of COVID-19 infections and this is how the facilities team created multiple patient isolation rooms throughout the hospital.
---
Hendricks is a county-owned hospital with 160 beds located in Danville, IN, and was the first hospital in the state to have a COVID-19 patient. On Sunday, March 8th, the Director of Engineering, Troy Tucker, received a call from a senior hospital leader telling him that the virus they had been hearing about had arrived at Hendricks. They had their first COVID-19 case, a local high school student. That night he assembled his team at the hospital and tasked them with creating negative air rooms appropriate for patient isolation. Within 48 hours, his team repurposed an unused building across the street from the hospital and converted 2 exam rooms into negative air units suitable to treat patients. The local Superintendent of Schools made the decision to close all the schools immediately and, according to Troy, that decision, "shocked the region and created the first wholesale massive response to the potential pandemic in the state of Indiana."
---
The Challenge
Word of what Troy's team accomplished started to spread and the hospital staff was impressed with how fast Troy's team was able to respond. Within a couple of days, dozens of difficult requests from different parts of the hospital for negative air started coming. Says Troy, "It was almost like a tabletop exercise where someone dreams up all of these 'end of the world' scenarios that happen one after the other to see how you respond. My job became, how do I break up and divide parts of the hospital into sub-units for negative air isolation? It felt like we were at war and you do what you have to do to win the war." The leadership was asking for multiple walls and doors to be erected where there previously had been none. Troy's team was thinking of steel studs and drywall and quickly realized how long all the work would take to complete. They remembered a contractor who was conducting occupied renovation in their facility months ago and was using STARC Systems for temporary containment. Says Troy, "We kind of fell in love with the idea of the product and realized it could be used just as well for isolation as for renovation. It's a pretty nice product and the future of infection control."
The first challenge Troy's team faced was converting 8 rooms in the ICU to negative air units. With so many negative rooms so close together, each with its own negative air machine, it created a negative air wind tunnel environment. The wall barrier solution had to be sturdy, cleanable and ready to install instantly. Troy noted, "It's important that the wall system solution was durable, anchorable and can't flex or fail. It could kill someone. The STARC walls didn't flinch." When hospital leadership came to see how ICU isolation was accomplished, they didn't know what to expect or how Troy's team accomplished the task but were impressed with how quickly it was achieved. They were expecting drywall and studs or some plastic sheeting solution. "When the staff came to see the solution implemented, it very quickly went from 'I think this will work' to 'this should be the expectation to this is now the new norm'. If you were able to pull off this miracle in a couple of hours, surely you can do it in the emergency room too", said Troy.
Another challenge was being able to create multiple anterooms throughout the hospital for PPE application and removal. Says Kelly, Regulatory Compliance Specialist, "What was so important with the STARC walls was how quickly and easily we were able to create donning and doffing rooms and the physicians were blown away."
Results
In the time span of just a couple of weeks, Troy's team was able to create 43 negative air rooms using STARC walls for isolation by repurposing existing spaces within the hospital.
ICU/8 rooms
PACU/24 rooms
Emergency Department/7 rooms
Long Term Care Unit/4 rooms
All of these negative air rooms remain in place in the event of a spike in infections or a potential second wave. Troy sums up STARCs' solution this way: "I attribute 20% of my team's overall pandemic response success directly to the STARC wall system because of the speed of deployment, the fact that it's cleanable, and how stable it is. It's almost near earthquake-proof – those panels haven't moved a micron. It's remarkable how durable it is, and the doors are so solid".
Ultimately, it is Troy's team's job to keep the staff safe during the pandemic in addition to managing the hospital's response to it. The hospital had hundreds of COVID-19 patients and there were well over 100 nurses treating patients. Now, in early July, that the first wave has peaked in Indiana, a postmortem procedural review revealed that only one nurse was afflicted with COVID-19 while no physicians were infected. "That shook me to my core, and we were very fortunate to have the results that we had. While it was a physically and mentally exhausting experience for my team to go through, we sort of obtained a heroic status among hospital staff for pulling off miracles with which everybody was impressed," said Troy.
Protect your patients with STARC Systems