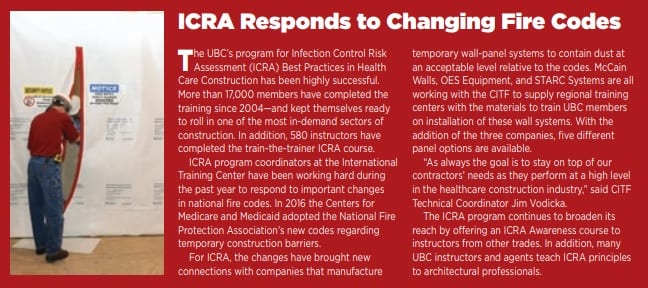 In healthcare construction, patient care is critical to the success of a renovation project. That's why STARC Systems is partnering with the United Brotherhood of Carpenters (UBC) in its continuing education program for Infection Control Risk Assessment (ICRA) best practices in healthcare construction.
The Carpenters International Training Fund (CITF) brings together leading infection control experts and construction industry leaders for an exclusive training program that teaches carpenters how to achieve ICRA goals.
Since 2004, more than 17,000 UBC members have trained on ICRA best practices including coordination with healthcare facility ICRA teams with a focus on how to contain pathogens during renovations and how to operate without disrupting facility operations.
STARC is proud to supply CITF regional training centers with the ICRA construction barriers or temporary containment panels they need to properly train UBC members in ICRA best practices.
Read more about our partnership in this recent news from The Carpenter's Magazine.
See How Much You Can Save with STARC Systems