Before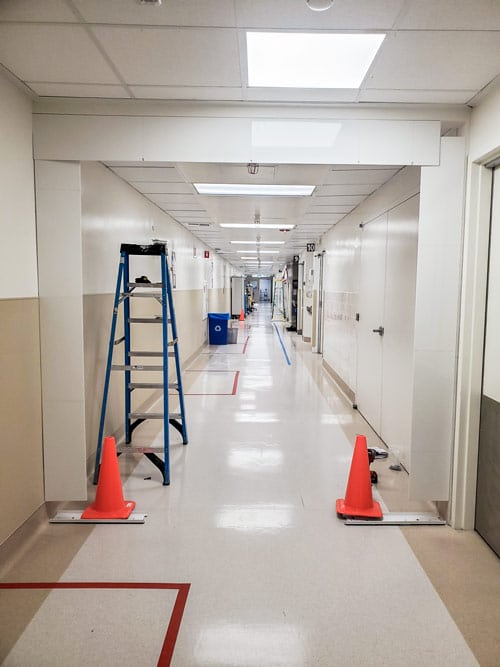 After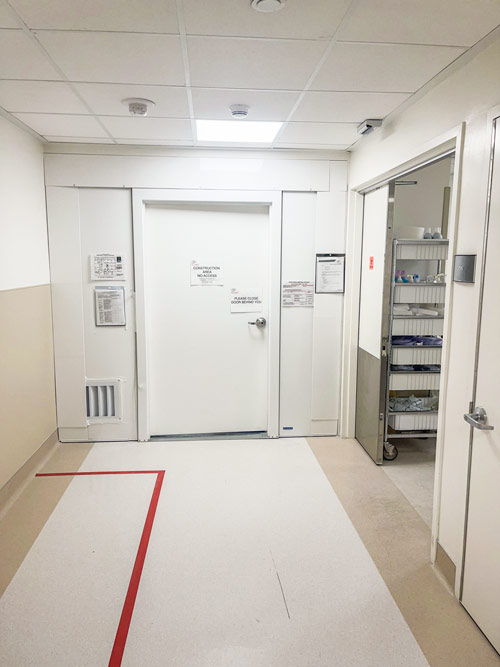 ---
Background
Irvine, CA-based NelsonHPS Inc. was challenged with maintaining a fire rating around the construction area perimeter while working on the existing rated walls. The STARC LiteBarrier system had been a great temporary construction barrier for the project, but rating issues with existing walls within the barrier made constructing a rated temporary barrier a priority.
---
Challenges
Building stud framing and drywall temporary walls was too costly and did not provide the flexibility of modifying the wall system to move large items in and out of the construction area.
Solution
For this project, NelsonHPS opted to not set up the STARC LiteBarrier temporary containment system around the construction perimeter. Instead, they used FireblockWall, which is clean, fast, quiet, and sets up in less time than building and finishing fire-rated walls with drywall. The FireblockWall system also features integrated, fire-rated locking doors, which NelsonHPS used in this installation.
Results
"By using FireblockWall, we were able to provide a cleaner and far less disruptive experience to Sharp HealthCare's patients, clinicians, care givers and employees," says Bruce A. Nelson, President of NelsonHPS. "FireblockWall was also a more sustainable solution, which eliminated the need to tear down and dispose of non-reusable plastic sheeting, or the dumpster full of debris that typically accompanies the demolition of fire-rated drywall and metal stud sections."
Protect your patients with STARC Systems