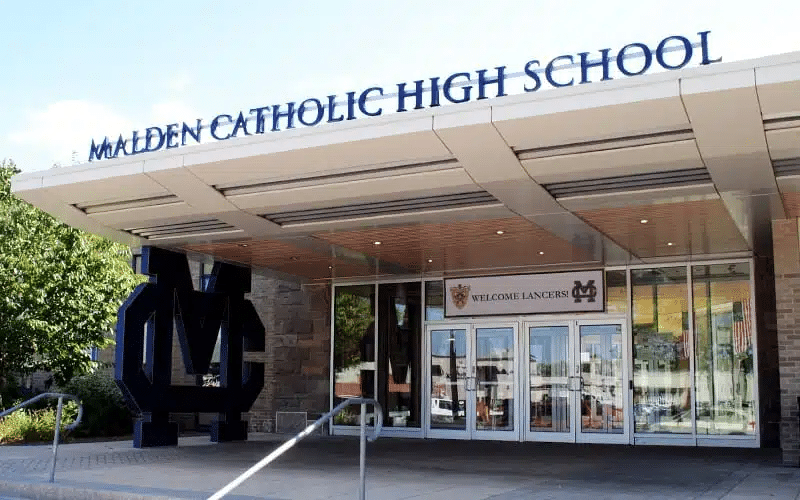 ---

"The selling point to us was the look. For this project, the job site was adjacent to the lobby, where everyone first walks into the facility. It needed to look good."
John Noone, Vice President of Field Operations, J. Calnan & Associates
---
The Challenge
The first renovations at Malden Catholic's school included building new laboratory spaces. The space itself included several challenges. The JC&A crews needed to build an L-shaped temporary containment wall with a door where crews could easily access the renovation site. Also, all the renovation work was happening in the lobby. The temporary walls would be viewed by all students and staff who entered through school.
JC&A needed a containment wall system that looked attractive and did not disrupt the day to day work of the school.
Our Solution
"The first time we used STARC Systems was at the Malden Catholic School," said John Noone, Vice President of Field Operations, J. Calnan & Associates. "The selling point to us was the look. For this project, the job site was adjacent to the lobby, where everyone first walks into the facility. It needed to look good."
"It looked completely clean and no one knew we had demolished the area right behind the STARC system containment walls."
The added bonus for Noone and his crews; the quick installation.
"All the selling points added up; the walls are nice and clean as well as dustproof. They were simple to install and take down. It took only two people to install the panels in less than an hour."
Results
This was the first time John Noone and his crews used STARC Systems, but they quickly purchased more panels for additional projects.
"In the past, we would use either drywall or zipwall. But zipwall is only plastic and it constantly had to be maintained if it had rips or tears. Plus zipwall is an eyesore," said Noone.
"STARC Systems provides a temporary wall that's easy to put up and looks great on the occupied side. And you're not throwing it away in the dumpster at the end of the day opposed to drywall. The investment has paid off."
See How Much You Can Save with STARC Systems