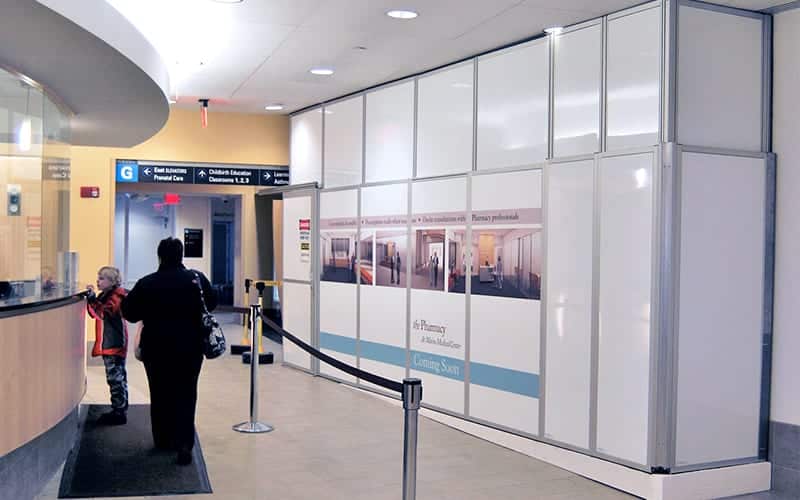 Busy Lobby Transformation to Pharmacy
Maine Medical Center (part of MaineHealth) renovated a space off the facility's lobby into a new retail pharmacy requiring the need to build temporary wall systems because opposite of the construction area was the main security reception desk and employee registration desk, two high-traffic work areas.
---

---
The Challenge
This was a primary corridor leading to patient and treatment rooms. The project was slated to take four months. It would require the installation of 30 feet of window wall with new doors and removing three display windows in an adjacent wall, all in a very public area. The noise, dust, and debris would need to be contained. Staff and patient satisfaction were of utmost importance.
Our Solution
The contractor selected STARC Systems to meet all of these containment requirements and ensure staff and patient satisfaction. The STARC panel system was erected on a sloped floor in under an hour, without impinging on the hallway; no noise or disturbance of the security desk area, and without creating any dust or waste material.
When crews needed to relocate a sliding door, the panel change was made in only five minutes, simply by lowering the panels, quickly swapping them out, and then raising the panels back up to the ceiling. Moving the panels allowed for a quick change of the position of the door.
The Results
The staff was thrilled with the initial installation, and patients never noticed the renovations hidden behind the STARC walls. Patient care continued without interruption.
The staff produced vinyl graphics for the panels with artwork that featured architect's renderings of the new pharmacy.
See How Much You Can Save with STARC Systems