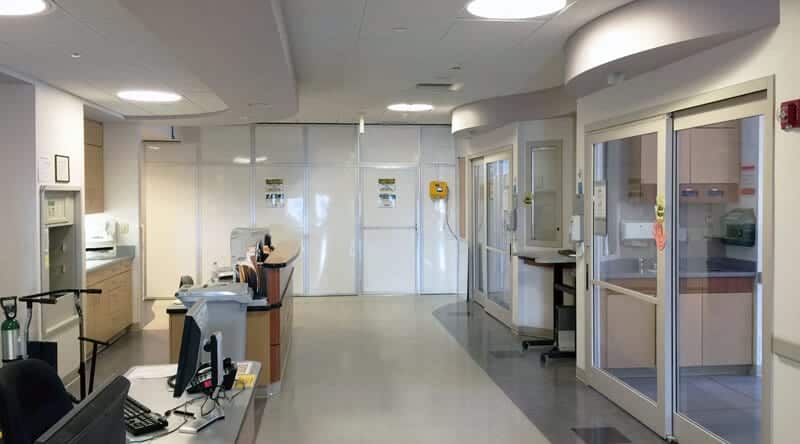 Keeping Patients Safe During Renovations

Central Maine Medical Center (CMMC) provides vital medical services to a population base of 400,000 people in central and western Maine. The medical center needed to renovate its Emergency Department, while keeping it open and safe for staff and patients.
---

"This is the best solution I have seen for keeping the patient population protected from noise, dust and any other potentially hazardous materials during renovations or construction in a hospital environment."
Daniela Skalina, Infection Control Director, Central Maine Medical Center
---
The Challenge
CMMC faced two major challenges: Protecting patients and staff from potentially hazardous airborne particles and completing the renovations without disrupting the Emergency Department critical care area.
Healthcare associated infections are a major threat to patients and hospital staff. The STARC containment system has been specifically engineered to provide effective control of airborne pathogens and exceeds ICRA Class IV standards, when properly installed. To comply with ICRA standards, CMMC'S renovation required building a 100-foot airtight containment barrier around the construction zone while eliminating disruptions in critical patient areas.
"The traditional drywall method of constructing this large of a containment barrier would have taken up to two-and-a-half days," says Brian Campbell, CMMC's Regional Manager of Maintenance and Construction. "That was not the case with the installation of STARC panels."
Our Solution
CMMC chose STARC dust barriers or panels for its renovation and they were quickly installed, containing the dust and debris and preventing the spread of airborne pathogens.
"The whole wall was constructed in less than an hour," Campbell says. "There was no dust, debris or interruption of services during the setup."
The Results
Patient and staff satisfaction remained high throughout the renovation due to the effective noise suppression and the clean, polished look provided by the containment system.
"Not only is it aesthetically pleasing, it minimizes risk to patients because it is so easy to set up correctly, and minimizes the opportunity for error, while maintaining an airtight seal around the project," said Daniela Skalina, CMMC's Infection Control Director.
"This is the best solution I have seen for keeping the patient population protected from noise, dust and any other potentially hazardous materials during renovations or construction in a hospital environment."
See How Much You Can Save with STARC Systems