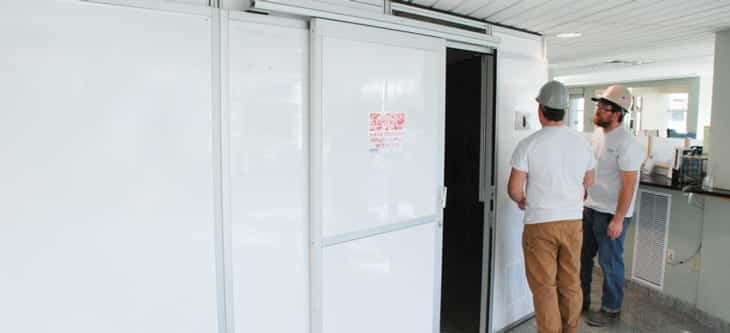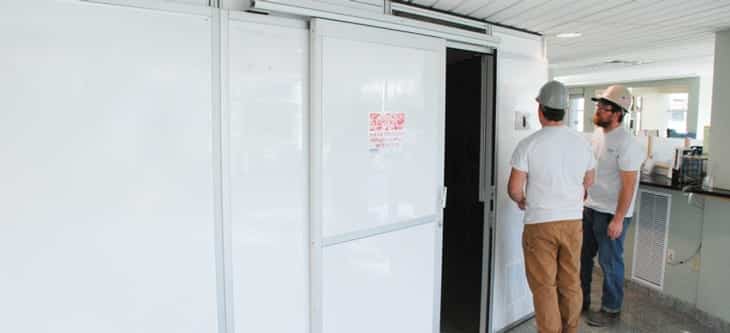 Central Maine Medical Center (CMMC) of Lewiston, Maine is a member of the Central Maine Healthcare Group which is the largest Healthcare employer in Central Maine. CMMC is a Regional Resource Hospital serving over 400,000 people in Central and Mid Coast Maine and providing Primary, Emergency and Specialty Care throughout the Region.
The STARC System – Perfect for Infection Control in Hospitals
CMMC's Quality Vision includes "Delivering high-quality healthcare services is fundamental to everything we do at Central Maine Medical Center". That Vision is also embraced by the Regional Director of Engineering, Dan Bickford, CHFM, CHC and the Regional Manager of Maintenance and Construction, Brian Campbell, CHFM, CHC. Recently, Dan and Brian were faced with a major renovation project in, and around the CMMC Emergency Department. They were challenged to perform this feat without any interruption in Emergency Services.  The first priority was to protect employees and patients from debris, noise and unsightly optics resulting from the renovation while maintaining uninterrupted service 24/7.
CMMC Saves Significant Time and Money Using STARC System
Dan and Brian had been introduced to STARC Systems Innovative Temporary Portable Containment by Hebert Construction of Lewiston, Maine months before. In fact, CMMC was the first hospital in the United States to experience the benefits of STARC Systems on smaller projects. Once again, Hebert selected STARC Systems for the 100' of Temporary Containment in and around the ED Lobby.
Once the process began, "The whole wall was erected in less than an hour." according to Campbell. "There was no dust, debris nor interruption during the set-up. There was little interference with staff or patients." Brian also noted, "Our traditional method of deploying this containment would have taken 2 to 2 ½ days. We would have installed poly sheets to protect the environment from the debris generated just to build the temp walls. That method would have been extremely disruptive and messy in the ED lobby." Brian was also impressed with the noise suppression once the work behind the containment walls began, "The lack of noise spilling out to the lobby was very impressive and it looked like a finished wall, during the renovation project."
Infection Control in Hospitals is Critical
As a Healthcare and Infection Control professional for over 20 years at CMMC, Daniela Skalina noted that infection control in hospitals is very important, especially during renovation projects. She shared her thoughts in the STARC System, "Not only is it aesthetically pleasing, it minimizes risk to patients because it is so easy to set up correctly, and minimizes the opportunity for error." She also observed, "I can remember so many projects in the past where the appearance looked like a renovation project, and you can tell that the containment was not as effective as it is with STARC Systems." Daniela's summary? "This is the best solution I have seen for keeping the patient population protected from noise, dust, and  any other potentially hazardous materials during renovations or construction in the hospital environment."
CMMC's Emergency Department Manager, Darlene St. Hillaire commented, "I loved it! I was amazed at how little noise there was."
A few more observations from Dan, "Other features such as the ability to key the doors with the Hospital Key System and the negative air panels were great additions. The airtight seal between the panels was impressive." As a final touch of professionalism, Hebert added a graphic diagram of the proposed finished project on the front of the panels for all to see. "That was a nice touch", noted Campbell.
And equally as important, the project was on time and under budget.
Check out the timelapse video below of the system setup for this CMMC project